Posts for: January, 2013
By Berkley Dental Associates
January 24, 2013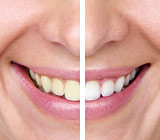 Time to tune up the brightness on your teeth? Here are six modern methods of whitening and brightening your smile.
In-office "power" bleaching under the supervision of my staff and me is recommended if your teeth are badly stained, or if you are about to have veneers or crowns made. It's quick, safe, and effective. Gels containing high concentrations of bleach are applied to your teeth in our office, often with the enhancement by heat and light to make them act faster. Results show teeth becoming up to ten shades lighter in about an hour.
"Take home" whitening solutions and trays are designed to fit your mouth and can also be provided by my office. The technique is easy to perform and is less expensive than in-office power whitening system, although it takes longer to see the same results. General recommendations are for 30 minute applications twice a day. You can usually see a change after two to four sessions. This requires patience, because it is important not to exceed recommended exposure in order to avoid damage to your teeth, gums, and the inside skin of your mouth. After two weeks of use, teeth can be expected to be about eight shades lighter.
Whitening strips look like clear Band-Aids that are applied to the tooth surfaces. They should be worn twice a day for 30 minutes each time, for seven days. On average, they claim to lighten teeth more than three shades. They take about two weeks to work at 30 minutes per day.
"Paint on" or "Brush on" whitening formulas are also available. These are gels that are painted onto the teeth every night at bedtime, for two weeks. Some claim that this line of home whitening can whiten teeth two to five shades. These gels may make your mouth feel goopy, but they are relatively inexpensive. Some gels come with a small brush to scrub them onto the teeth.
Over-the-counter "mouth-tray" whiteners use mouth trays that are not designed for your particular mouth, so they may not fit well and may be messy or uncomfortable. They are filled with gel and worn 45 minutes a day for one week. On average, teeth become two shades whiter.
Whitening gum is a relatively new product. It requires chewing two pieces for at least 20 minutes, four times a day, to see an effect.
Contact us today to schedule an appointment to discuss your questions about tooth bleaching. You can also learn more by reading the Dear Doctor magazine article "Teeth Whitening."
By Berkley Dental Associates
January 12, 2013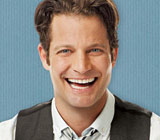 Perhaps you've seen Nate Berkus on The Oprah Winfrey Show or watched his television program, The Nate Berkus Show. You may even have read his best-selling book, Home Rules: Transform the Place You Live Into a Place You'll Love. Regardless of where or how you discovered Berkus, you will surely have noticed his dazzling smile.
Berkus recently opened up about the facts behind his trademark smile during an interview with Dear Doctor magazine. First off, his smile is totally natural, as he never wore braces or had any cosmetic work, including porcelain veneers. However, Berkus does give credit to his childhood dentist for the preventative healthcare he received as a young boy. "I'm grateful for having been given fluoride treatments and sealants as a child," he said. Nate also shared the important flossing advice he learned from his dentist that he still follows today: "Floss the ones you want to keep." Berkus went on to say that he feels, "healthy habits should start at a young age."
And we totally agree! For this reason we have put together the following list of facts and oral hygiene tips:
Over 50% of plaque accumulation occurs in the protected areas between teeth — a place that may be difficult or even impossible to reach with a toothbrush.
A thorough brushing may take up to two minutes at first, and it may feel awkward as you reach some places in your mouth.
Remember, more is NOT always better! Brushing or flossing too hard can be damaging to your teeth and gums. And never saw back and forth with your floss.
To learn more about oral hygiene, including brushing and flossing techniques, you can continue reading the Dear Doctor article "Oral Hygiene Behavior - Dental Health For Life." Or you can contact us today to schedule an appointment so that we can conduct a thorough examination, review your brushing and flossing techniques, and discuss any questions you have as well as treatment options. As needed, we will work with you to teach you the proper brushing and flossing techniques so that you feel confident before you leave our office. And to read the entire interview with Nate Berkus, please see the Dear Doctor article "Nate Berkus."