Posts for: February, 2013
By Berkley Dental Associates
February 26, 2013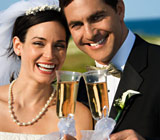 In a recent online poll conducted by Dear Doctor, the premier oral healthcare resource for consumers, 77% of those polled planned on visiting their dentist prior to their wedding. For some, this includes a thorough cleaning to remove stains and freshen both their smile and breath. However, a growing number of brides, grooms, and parents of the couple are seeking cosmetic dentistry or more specifically, a smile makeover, to transform their smile for their special day as well as their future.
If this describes your situation, take the first step towards the smile you have always wanted. To create your ideal smile, we will first meet with you to get to know you better and hear your concerns, goals, expectations and wedding day timeline. Bringing in photos or magazine images of smiles that you consider beautiful will help to ensure that we understand what you find attractive, as beauty can vary greatly from individual to individual. During this initial consultation, you will also learn about your smile makeover treatment options and what you could expect immediately prior, during and following each option.
Some subtle improvements we may consider are teeth whitening and bonding. Both of these options can take place in just a few office visits and produce very attractive results. Porcelain veneers and crowns can provide you with longer-term results that can last from 10 to 20 years. However, because they typically require 1 to 4 months advance notice, it is important to see us as soon as possible to ensure you have enough time before your special day. Another procedure that can play a dramatic role in your smile makeover is periodontal plastic surgery to improve and alter your gum tissues and their relationship to your teeth. For example, the appearance of "short" teeth can be corrected by lengthening them during a surgical procedure that has minor discomfort yet results in a life-long change.
Want to learn more?
Contact us today to discuss your smile makeover questions or to schedule an appointment. You can also learn more by reading the Dear Doctor article, "Planning Your Wedding Day Smile."
By Berkley Dental Associates
February 10, 2013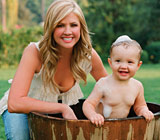 During Nancy O'Dell's interview with Dear Doctor magazine, the former co-anchor of Access Hollywood and new co-anchor of Entertainment Tonight could not resist her journalistic instincts to turn the tables so that she could learn more about a baby's oral health. Here are just some of the facts she learned from the publisher of Dear Doctor about childhood tooth decay, pacifier use and what the right age is for a child's first visit to the dentist.
Many moms-to-be and parents or caregivers of young children are surprised to learn that around age 1 is the ideal time to schedule a child's first visit to the dentist. This visit is crucial because it sets the stage for the child's oral health for the rest of his or her life. It can also be quite beneficial for the parents, too, as they can be reassured that there are no problems with development and that the child's teeth appear to be growing properly. And if by chance we identify any concerns, we will discuss them with you as well as any necessary treatment strategies.
Nancy also wanted to learn more about pacifiers — specifically, if it is a good idea for parents to encourage their use. Obviously, children are born with a natural instinct for sucking, so giving a child a pacifier seems totally harmless. Pacifiers definitely have some advantages; however, if used for too long — past the age of 18 months — they can cause long-term changes in the child's developing mouth (both the teeth and the jaws).
Another problem that parents and caregivers need to be aware of is baby bottle syndrome. This is a condition that develops in children who are perpetually sucking on a baby bottle filled with sugary fluids such as formula, fruit juices, cola or any liquids containing a large amount of sugar, honey or other sweeteners. It is important to note that a mother's own breast milk or cow's milk are good choices for feeding babies, as they both contain lactose, a natural sugar that is less likely to cause decay. However, if these liquids are placed in a bottle and a child is allowed to suck on it throughout the night, they, too, can promote tooth decay. The key is to feed your child properly while avoiding all-night feedings and liquids loaded with sugar.
To read the entire Dear Doctor magazine article on Nancy O'Dell as well as to learn more about a baby's oral health, continue reading "Nancy O'Dell — A life full of smiles." Or you can contact us today to schedule an appointment so that we can conduct a thorough examination, listen to your concerns, answer your questions and discuss any necessary treatment options.