Posts for: July, 2013
By Berkley Dental Associates
July 23, 2013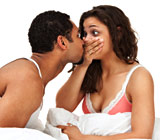 Treating bad breath is big business. Just check your local drug store or supermarket and you'll find a mind-numbing array of mints, gums, mouthwashes, sprays, strips and other products that promise to sweeten your breath and make you (or your mouth at least) irresistible. But most of these products only mask halitosis (from the Latin "halitus" – exhalation, and Greek "osis" – disease) and some even contain ingredients, like sugar, that contribute to tooth decay and gum disease. In most cases, for enduring, healthful results, nothing beats a trusty toothbrush, toothpaste and floss, used faithfully and correctly, along with periodic dental checks and cleanings.
Oral bacteria are the number one reason for noxious breath. More than 600 types inhabit our mouth, and some of them emit awful odors — predominantly volatile sulfur compounds characterized by a "rotten egg" smell) — as they consume remnants of food trapped in our mouth. Brushing and flossing regularly, especially after eating, can dislodge food trapped between teeth (interdental) and under the gums (subgingival), depriving microbes of a ready-made meal. It also disrupts the buildup of sticky plaque (microbial "biofilms") where odor-causing germs can flourish.
When cleaning your mouth, pay special attention to the back of the tongue. It is the primary location for generating halitosis because it is drier and less efficiently cleansed by saliva and normal oral activity than the front. Our office can instruct you on proper oral hygiene including the gentle use of a tongue scraper or brush.
Sometimes more involved periodontal techniques such as scaling and root planing (deep cleaning) are called for; antibiotics may be useful in targeting the offending microbes. If tooth decay and/or periodontal (or gum) disease is contributing to halitosis appropriate treatment is necessary.
Remember that foul breath is just a symptom of some underlying condition. If diligent oral care at home doesn't do the trick, our office can help you get to the root of the problem and determine the appropriate therapy.
If you would like more information about halitosis and ways to prevent or treat it, please contact us or schedule an appointment for a consultation. You can also learn more about this topic by reading the Dear Doctor magazine article "Bad Breath."
By Berkley Dental Associates
July 08, 2013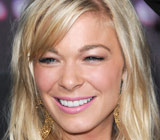 Singer LeAnn Rimes was forced to cancel a string of performances recently, as a more pressing engagement came up: a late-night meeting with her endodontist. It turned out that the country-pop star needed some emergency dental work performed while she was on tour. But her die-hard fans needn't have felt left out — Rimes faithfully tweeted each stage of her dental treatment.
The trouble began before she was scheduled to play a show in Ohio. "Waiting on the endodontist to meet me and do a nighttime root canal," she informed her twitter followers. Instead of performing, Rimes was advised to spend the next few days resting after the emergency treatment. "Happy Friday! I'll be spending mine in bed," she tweeted after the previous evening's procedure. The following Monday, Rimes returned to the dentist's chair for follow-up treatment.
It turned out that the singer had been battling dental pain for months. "I am so disappointed that I can't make it to my fans tonight." Rimes explained in a statement. "I had wanted to give them the show they deserved and only wish this tooth pain held out a little longer."
If there's a moral to this story, it's this: If you have tooth pain, don't wait to see a dentist. Call us right away!
A feeling of constant pain and pressure in your mouth is a clear indication that you may need a root canal. Another telltale symptom is sharp pain when you bite down on food, or lingering pain after eating something hot or cold. Not every symptom is as clear-cut, however — the only way to know for sure whether you need treatment is to come in for an evaluation.
Pain in your teeth or gums may be a symptom of a serious condition. Even if the pain goes away temporarily, an underlying infection generally does not. If a treatment such as root canal therapy is needed, the sooner it is obtained, the better you'll feel. And remember, root canal treatment doesn't cause tooth pain — it relieves it!
If you have any concerns about tooth pain, please contact us or schedule an appointment for a consultation. You can learn more in the Dear Doctor magazine articles "I'd Rather Have a Root Canal" and "Signs and Symptoms of a Future Root Canal."