Posts for: April, 2014
By Berkley Dental Associates
April 17, 2014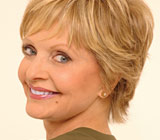 Life lessons are learned in the most surprising places. This is no different for celebrities. Take, for example, Florence Henderson, an actress, singer, philanthropist, author and star of the hit television series, The Brady Bunch. As she told Dear Doctor magazine, her experience with having four impacted wisdom teeth removed — at the same time — "...only made me more aware of how important dental care is." She continued, "This is why I have always gone every six months for a check up."
Another important lesson we want to share is the fact that even if your impacted third molars (wisdom teeth) are not bothering you or causing any pain, you may still need to have them removed.
Why? Having a tooth submerged below the gum, pressing on the roots of other teeth is problematic; the tooth should be removed so that you can avoid major dental problems before they occur. For example, it is not uncommon for us to find an impacted third molar pressing against the roots of the adjacent second molar. Furthermore, because the enamel crown of this impacted tooth is trapped below the gum, we sometimes find an infection, gum disease or even cyst formation occurring.
Often, the best time to remove a wisdom tooth is when it is not causing any problems. This is because a painful wisdom tooth or pain in the area of the wisdom tooth may be a sign that significant damage has occurred or is occurring. It is also better to remove wisdom teeth when you are young, as young healthy people with no prior infections at the site provide the best opportunity for us to remove the tooth with no complications.
To learn more about impacted wisdom teeth, continue reading the Dear Doctor magazine article "Removing Wisdom Teeth." Or if you suspect or already know that you have an impacted wisdom tooth, contact us today to schedule an appointment so that we can conduct a thorough examination that includes x-rays. During this private consultation, we will also address any questions you have as well as your treatment options. And if you want to read the entire article on Florence Henderson, continue reading "Florence Henderson."
By Berkley Dental Associates
April 02, 2014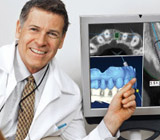 There's no question that x-ray imaging has transformed how we diagnose and treat dental problems. But traditional x-rays have at least one limitation — they are two-dimensional portraits that can only provide a portion of the information available. If you could view the interior of teeth or other mouth structures in three dimensions, you would have access to more detail about their conditions.
Computerized axial tomography (CAT) scanning has brought that third dimensional view to physicians generally and, in more recent years, to dentists. The latest development in this technology is known as Cone Beam Computed Tomography (CBCT). A CBCT emits a spiral of x-rays that form a cone-shaped beam that is caught on detectors. Using digital geometry, the CBCT then generates a three-dimensional image by precisely "layering" this large series of two-dimensional images caught by the detectors on top of each other.
CBCT is already making a significant impact in dentistry and its related specialties. Dentists now can visualize with amazingly precise detail the three-dimensional anatomy of the teeth, jaws, facial bone and other structures in the head and neck area. Orthodontists can examine the growth stages of a patient's teeth eruption to better prepare treatment strategies. Oral surgeons can determine the precise location of impacted teeth and their exact proximity to nerves and sinuses. And, periodontists who specialize in gum disease and treatment can better determine the level of bone loss and gum attachment for more accurate diagnoses and effective treatment.
While a CBCT delivers a higher dose of x-rays than a traditional panoramic radiograph, it actually delivers a lower dosage than a digital standard 18 film full mouth series or than conventional medical CT scanners. The field of view also determines the level of x-ray exposure — the smaller the field of view (and more concentrated the x-rays) the higher the dosage and the better detail of anatomy.
The good news, though, is that a low dosage CBCT scan can still provide a level of detail that can provide dentists with a very accurate view of anatomical features, including bone density and mass, in three dimensions. That capability can vastly elevate the accuracy of diagnoses and lay the groundwork for effective dental treatment.
If you would like more information on the uses of CBCT scanning to help you maintain dental health, please contact us or schedule an appointment for a consultation. You can also learn more about this topic by reading the Dear Doctor magazine article "CAT Scans in Dentistry."