Posts for: September, 2014
By Berkley Dental Associates
September 23, 2014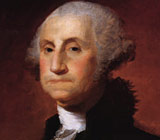 Everyone knows that George Washington wore false teeth. Quick, now, what were our first President's dentures made of?
Did you say wood? Along with the cherry tree, that's one of the most persistent myths about the father of our country. In fact, Washington had several sets of dentures — made of gold, hippopotamus tusk, and animal teeth, among other things — but none of them were made of wood.
Washington's dental troubles were well documented, and likely caused some discomfort through much of his life. He began losing teeth at the age of 22, and had only one natural tooth remaining when he took office. (He lost that one before finishing his first term.) Portraits painted several years apart show scars on his cheeks and a decreasing distance between his nose and chin, indicating persistent dental problems.
Dentistry has come a long way in the two-and-a-half centuries since Washington began losing his teeth. Yet edentulism — the complete loss of all permanent teeth — remains a major public health issue. Did you know that 26% of U.S. adults between 65 and 74 years of age have no natural teeth remaining?
Tooth loss leads to loss of the underlying bone in the jaw, making a person seem older and more severe-looking (just look at those later portraits of Washington). But the problems associated with lost teeth aren't limited to cosmetic flaws. Individuals lacking teeth sometimes have trouble getting adequate nutrition, and may be at increased risk for systemic health disorders.
Fortunately, modern dentistry offers a number of ways that the problem of tooth loss can be overcome. One of the most common is still — you guessed it — removable dentures. Prosthetic teeth that are well-designed and properly fitted offer an attractive and practical replacement when the natural teeth can't be saved. Working together with you, our office can provide a set of dentures that feel, fit, and function normally — and look great too.
There are also some state-of-the art methods that can make wearing dentures an even better experience. For example, to increase stability and comfort, the whole lower denture can be supported with just two dental implants placed in the lower jaw. This is referred to as an implant supported overdenture. This approach eliminates the need for dental adhesives, and many people find it boosts their confidence as well.
If you have questions about dentures, please contact us or schedule an appointment for a consultation. You can learn more in the Dear Doctor magazine articles "Removable Full Dentures" and "Implant Overdentures for the Lower Jaw."
By Berkley Dental Associates
September 08, 2014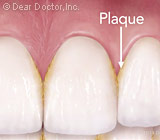 Treating periodontal (gum) disease is rather straightforward: remove the bacterial plaque that causes the disease. The techniques to accomplish this are varied, depending on how far the disease has advanced with an individual patient.
Plaque is a thin film of bacteria and food particles that build up on tooth surfaces due to inadequate oral hygiene. The bacteria that grow there can cause an infection that inflames and damages the gum and supporting bone tissues to the point they begin to lose their attachment to the teeth and form spaces known as periodontal pockets. In time, plaque becomes calcified due to the minerals in saliva, forming calculus or tartar. As the disease advances, it can ultimately cause tooth loss.
The most common technique for interrupting this progression of disease is known as scaling. Using hand instruments and/or an ultrasonic device, we remove as much plaque and calculus as we can detect on the outer surfaces of the teeth and gum tissues. Scaling, however, won't address the plaque and calculus that has accumulated at the tooth root level, especially where pocket formation has taken place. This is where root planing may be necessary.
As the name implies, we use this procedure to literally "plane" plaque and calculus from the roots, a similar concept to removing thin layers of wood from a board. If necessary, we will first numb the affected area so that we can perform the procedure in a meticulous manner without causing discomfort. It's essential we remove every bit of plaque and calculus that we can, especially where it has become lodged deep at the base of the pockets.
It's common to start with ultrasonic therapy, using vibration to loosen the plaque while flushing the pockets with water. We then switch to delicate hand instruments known as curettes to physically remove any remaining plaque and calculus. An experienced touch helps us determine when the root surfaces have been properly cleaned; we can also "read the gum tissues," as they will slightly change color as the offending plaque and calculus deposits are removed. As the gum tissues heal and become less inflamed, they return to a healthy pink color and the pocket depths generally become smaller as the inflammation leaves the area.
While a good portion of the treatment requires our professional skills, equipment and expertise, the bedrock for renewed periodontal health is effective daily oral hygiene on your part. Working together we can preserve the progress already made, while continuing to progress in restoring your oral health.
If you would like more information on root planing and other periodontal disease treatments, please contact us or schedule an appointment for a consultation. You can also learn more about this topic by reading the Dear Doctor magazine article "Root Planing."