Posts for tag: periodontal disease
By Berkley Dental Associates
August 20, 2018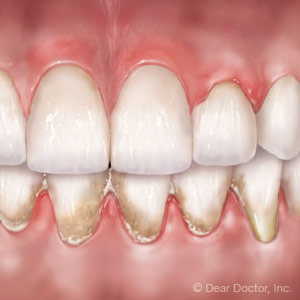 Periodontal (gum) disease, a bacterial infection caused by plaque, is one of the most prevalent and destructive dental conditions. Left untreated it can eventually lead to tooth and bone loss.
Although people are often unaware they have gum disease, there are a few warning signs to look for. Here are five gum disease signs that should prompt a dental visit.
Gum Swelling and Redness. Like all infections, gum disease triggers an immune system response that releases antibodies into the gums to attack the bacteria. The ensuing battle results in inflammation (swelling) and a darker redness to the gum tissues that don't lessen with time.
Gum Bleeding. It isn't normal for healthy gum tissue, which are quite resilient, to bleed. In a few cases, bleeding may indicate over-aggressive brushing, but more likely it means the tissues have weakened to such an extent by infection they bleed easily.
Tooth Sensitivity. If you notice a shot of pain when you eat or drink something hot or cold or when you bite down, this could mean infected gums have "drawn back" (receded) from the teeth. Gum recession exposes the tooth roots, which are more sensitive to temperature and pressure changes in the mouth.
An Abscess. As weakened gum tissues detach from the tooth, the normally thin gap between them and the tooth deepens to form a void known as a periodontal pocket. This often results in an abscess where pus collects in the pocket and causes it to appear more swollen and red than nearby tissues. An abscess needs immediate attention as bone loss is greatly accelerated compared to normal gum disease.
Tooth Looseness or Movement. As diseased gum tissue causes loss of gum and bone attachment, the affected teeth will start to feel loose or even move to a different position. This is a late and alarming sign of gum disease — without immediate intervention, you're in danger of losing the tooth.
If you encounter any of these signs, contact us for an examination as soon as possible. The sooner we can diagnose gum disease and begin treatment, the less damage it will cause — and the better your odds of regaining healthy teeth and gums.
If you would like more information on gum disease, please contact us to schedule an appointment for a consultation. You can also learn more about this topic by reading the Dear Doctor magazine article "Warning Signs of Periodontal (Gum) Disease."
By Berkley Dental Associates
July 15, 2014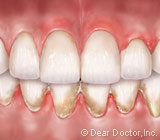 As we continue to learn about the delicate balance between the body's various organ systems, we're discovering what affects one part of the body may affect other parts. This is particularly true for patients with periodontal (gum) disease and one or more other systemic diseases — researchers have identified a number of possible links between them.
Here's a snapshot of three such diseases and how patients who suffer from them and gum disease may be affected.
Diabetes. Both diabetes (caused by the body's inability to produce insulin that regulates blood sugar levels) and gum disease can trigger chronic tissue inflammation. Because of inflammation, diabetics are more prone to infectious diseases like gum disease. From the other perspective, uncontrolled gum disease and its resultant inflammation can worsen blood sugar levels. Some research has shown treatments that reduce oral tissue inflammation in diabetics with gum disease may also help bring their blood sugar levels into normal range.
Cardiovascular Disease. Diseases of the heart and blood vessels can eventually lead to heart attacks and strokes, the world's leading causes of death. There's evidence that some types of bacteria that cause gum disease may also contribute to higher risks for cardiovascular disease. Reducing the levels of these bacteria in the mouth through periodontal treatment can help lower the risk of cardiovascular disease.
Osteoporosis. Like gum disease, osteoporosis causes acute bone loss, although from a hormonal imbalance rather than as the result of bacterial infection. The major link between the two conditions, though, relates to their treatments. On the positive side, the antibiotic doxycycline has displayed positive effects on both conditions when administered in low doses. On the other hand, a class of drugs known as bisphosphonates used to treat osteoporosis may limit bone regeneration after tooth extraction and could have implications for using dental implants to replace extracted teeth.
There's still more research needed on the relationship between gum disease and these and other systemic conditions. There's widespread optimism, though, that such research could yield new treatment approaches and procedures that bring better healing to the mouth as well as the rest of the body.
If you would like more information on the connection between oral and general health, please contact us or schedule an appointment for a consultation. You can also learn more about this topic by reading the Dear Doctor magazine article "Good Oral Health Leads to Better Health Overall."